Dates to be defined upon request.
Proposal: Arrival on Sunday,
Departure on next Saturday
(6 Nights/7 Days)
Total Price (Per Person)*: 1430 € (sharing 2 persons)
330 € (plus for single supplement)
*Special prices for groups
"Date" is a required field.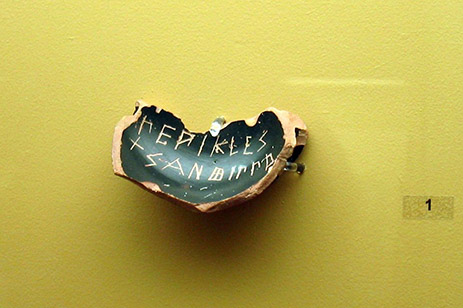 This is an experiential leadership program based on battles. We offer a variety of battlefields program, all of which showcase vivid and impressive leadership lessons from history. This battlefield-based leadership training session will last five days and use great battles from military history as intensive case studies as a basis for examining and learning about contemporary leadership practices.
Programs will be conducted on the field, on the actual terrain of the historic battles, featuring such leaders as Miltiades, Themistocles, Pericles and Alcibiades, Philipp and Alexander.
Day 1 – Sunday 11 Oct. – Arrival
Arrival at Athens Airport
Travel to Hotel
Ice breaking drink
Day 2 – Monday 12 Oct. – Study Day
Study period
Athens sightseeing
Acropolis Museum
Day 3 – Tuesday 13 Oct. – Miltiades
Marathon battlefield
3 stands, battle development
Swimming in the sea
Wine tasting
Return to Athens
Day 4 – Wed. 14 Oct. – Themistocles
Park of Maritime Tradition
Trireme exhib.
Egaleo Hill, battle development
Salamis Monument
Return to Athens
Day 5 – Thursday 15 Oct. – Pericles
Pnyx
Athenian Leadership
Funeral Oration
Return to Athens
Day 6 – Friday 16 Oct. – Philipp/Alexander
Chaeronea battlefield
2 stands, battle development
Return to Athens
Farewell dinner
Day 7 –Saturday 17 Oct. – Departure
Travel to the Airport
Departure
3*/4* hotel accommodation (basic) including breakfast
Information pack
Evening presentations (where appropriate)
All transportation costs
All entrance fees
All presentations in battlefields
Tour manager available day and night
All dinners
Bottled water each day
One Farewell dinner
Flights costs
Pick Up Transport from/to Airport